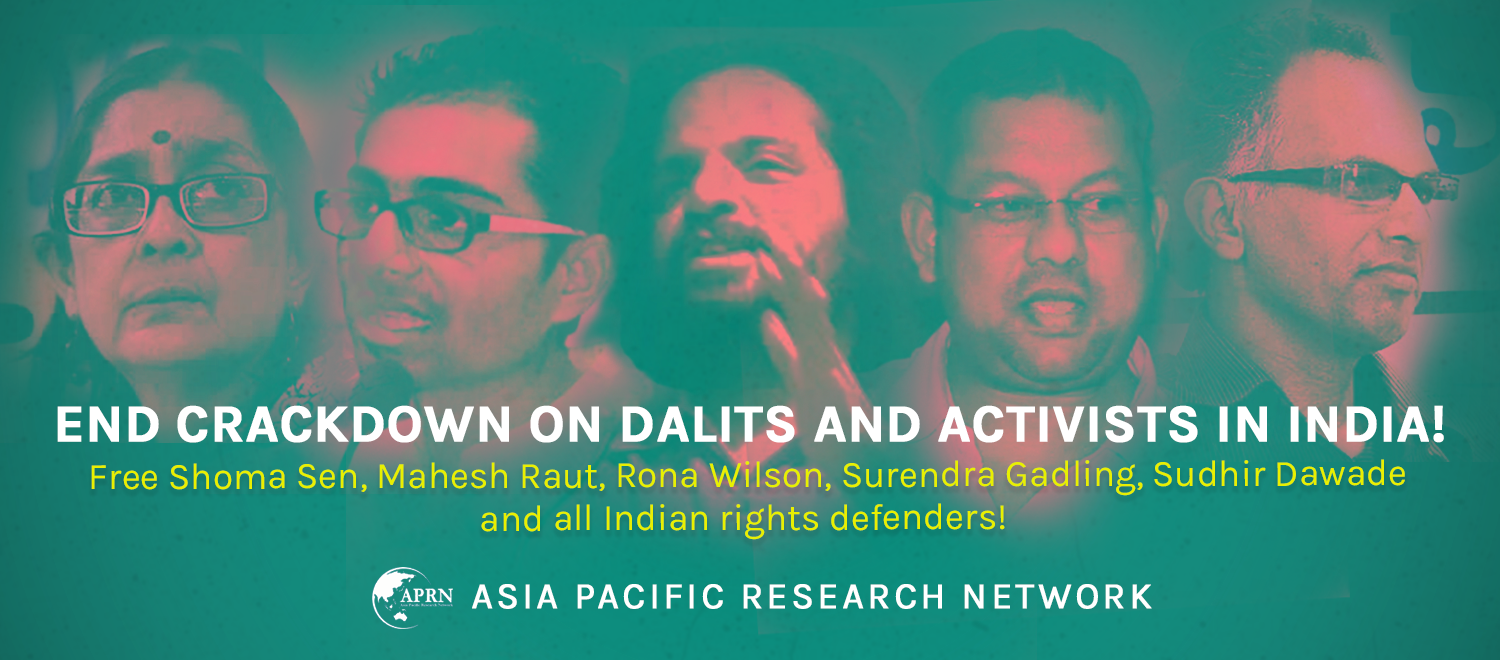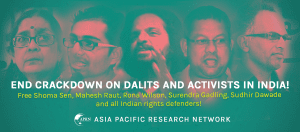 The Asia Pacific Research Network (APRN) strongly condemns the arbitrary arrest and detention of five human rights defenders and workers Professor Shoma Sen, Surendra Gadling, Rona Wilson, Sudhir Dawade, and Mahesh Raut last 6 June 2018.
In the wee hours of 6 June, Indian police simultaneously arrested the five human rights defenders in a nationwide operation. Gadling, Sen and Raut were arrested in Nagpur; Wilson was arrested in Delhi; and Dhawale in Mumbai. The human rights defenders were taken to the city of Pune in western India.
According to the Maharashtra police, the five were arrested based on their supposed "links" with banned groups and for their role in inciting violence on 1 January 2018 during the 200th anniversary of the Battle of Bhima-Koregaon, a historical uprising of Dalit minorities against the upper caste rulers. The commemoration turned violent when BJP-RSS[1]-linked activists assaulted Dalits on their way to the protest.
The BJP-RSS government is trying to deflect criticism and accountability of its own members for the violence that occurred on January 1. Meanwhile, Dalit youth in their thousands have been arrested since January 3, in flagrant violation of their civil and political liberties.
The increasing attacks against human rights defenders in India are part of the larger pattern of violent suppression and terror being unleashed against peasants, Dalits, Muslims, and other minorities. Most recently on April 22 and 23, 40 tribal community members, including one child, were slaughtered in Gadchiroli in an armed encounter between police forces and armed groups. Several people were arrested on trumped up charges and incarcerated.
APRN notes a worrying pattern in the Asia Pacific region where human rights defenders and communities, especially poor peasants and indigenous peoples are deliberately attacked in an attempt by the governments such as in India, Philippines, Indonesia, Bangladesh, Myanmar, and Cambodia, to name a few, to grab their mineral rich lands and hand these over to local and foreign corporations in the name of "development".
APRN believes that the arrests indicate the declining state of human rights in India under a brutal right-wing and ultra-nationalist government amid intensifying struggles of peasants, workers, Dalits, and other minorities for their democratic rights and freedom.
We stand with the arrested human rights defenders and strongly believe that their persecution is directly linked to their peaceful and legitimate work. In 2010, Prof. Shoma Sen was one of APRN's resource speaker for the "Women Resisting Crisis and War", a conference on the impacts and women's responses to the economic and climate crisis and war. Sen's keynote speech "War and Militarization: Imperialism as War" was published in APRN's "Women Resisting Crisis and War", a collection of speeches, panel discussions, and statements from the same conference.
APRN joins Indian social movements in demandingthe Indian authorities to:
Immediately and unconditionally release Shoma Sen, Surendra Gadling, Rona Wilson, Sudhir Dhawale, and Mahesh Raut;
End all forms of violence and attacks against Dalits, rights activists, and workers and peasants advocates;
Conduct independent investigation into the widespread violence against activists and minorities in the aftermath of Bhima Koregaon commemoration; and
Guarantee in all circumstances that all human rights defenders in India are able to carry out their legitimate activities without fear of reprisals and free from all restrictions.
[1] Bharatiya Janata Party (BJP) is the ruling party in India, led by current India Prime Minister Narendra Modi. Rashtriya Swayamsevak Sangh (RSS) is an Indian right-wing, Hindu nationalist, paramilitary organization that is widely regarded as the parent organization of BJP.