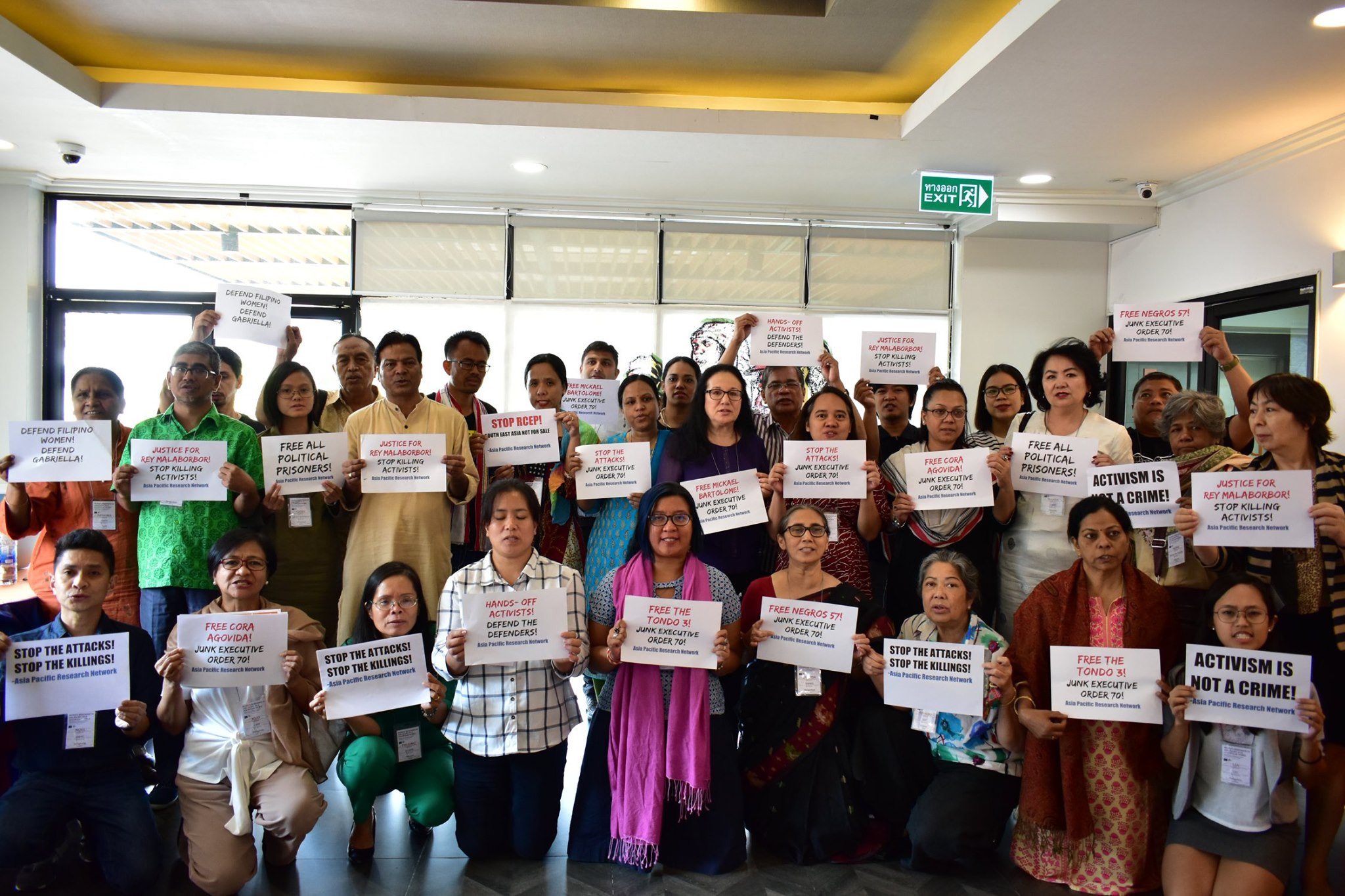 Asia Pacific Research Network (APRN), the leading research network in the region, strongly condemns the illegal arrest and detention of 57 activists in Bacolod City, Negros last October 31. The Philippine National Police (PNP) conducted simultaneous raids at offices of Bayan Muna (People First), GABRIELA – National Women's Alliance, Kilusang Mayo Uno (May First Movement – KMU), and National Federation of Sugar Workers (NFSW). Among the arrested activist leaders are KMU regional coordinator Noly Rosales and NFSW secretary general John Milton Lozande. The police also arrested May-Anne Krueger, member of Panghimatud Media, an alternative media group in Negros province. The newly established media outfit has been active in covering human rights abuses across the province. They will be charged with illegal possession of firearms and ammunition, illegal possession of explosives, and human trafficking according to the recent inquest proceedings.
Another series of attacks happened on the night of November 4. Reynaldo Malaborbor was shot dead by an unidentified gunman. Malaborbor was a coordinator of Makabayan Koalisyon ng Mamamayan (Patriotic People's Coalition) – Southern-Tagalog Region. Hours later, three activists were arrested without warrant in Tondo, Manila when the police conducted a raid at the office of Bayan Manila. The three were Ram Carlo Bautista, Bayan Manila campaign director, Alma Moran of Manila Workers Unity, and Ina Nacino of KADAMAY Manila, a federation of urban poor organizations. On November 5, Honey Mae Suazo, former Secretary-General of KARAPATAN's – Southern Mindanao, an alliance of the advancement of people's rights, was reported missing since November 2, 2019.
The unprecedented spate of offensives against activists and alternative media, largely based on suspicion and unsubstantiated allegations of these legal organizations being threats to national security, places the country under an undeclared martial law. It is clear that the Duterte government is exerting all its efforts to curtail the civil liberties and compromise the security of those who are critical of his administration.
Further, this intensifying repression is used to sow fear and disunity in the face of the imposition of anti-people agenda such as war on drugs that has killed thousands of civilians and the implementation of neoliberal policies such as Tax Reform for Acceleration and Inclusion (TRAIN) Law which has only hurt the poor and the middle class and eased the tax obligations of the rich. The recent passing of the Rice Tariffication Law which was supposed to increase supply by lowering prices caused the price of rice to plunge to PhP 7.00 (US$ 0.01963) per kilogram. This has exacerbated the already impoverished conditions of the farmers, who make up most of the Philippine population, to the extreme.
Amidst the climate of intolerance and impunity, we should recognize that activism is part of a vibrant democracy. Normalization of suppression through illegal means should not be seen as legitimate. The APRN urges the people to unite and condemn the attacks against activists.
#StopTheAttacks #FreeNegros57 #HandsOffActivists